Wan Jie: Art market needs new auction law
Shenzhen daily 2015-03-05
Wan Jie: Art market needs new auction law
Debra Li
Debra_lidan@163.com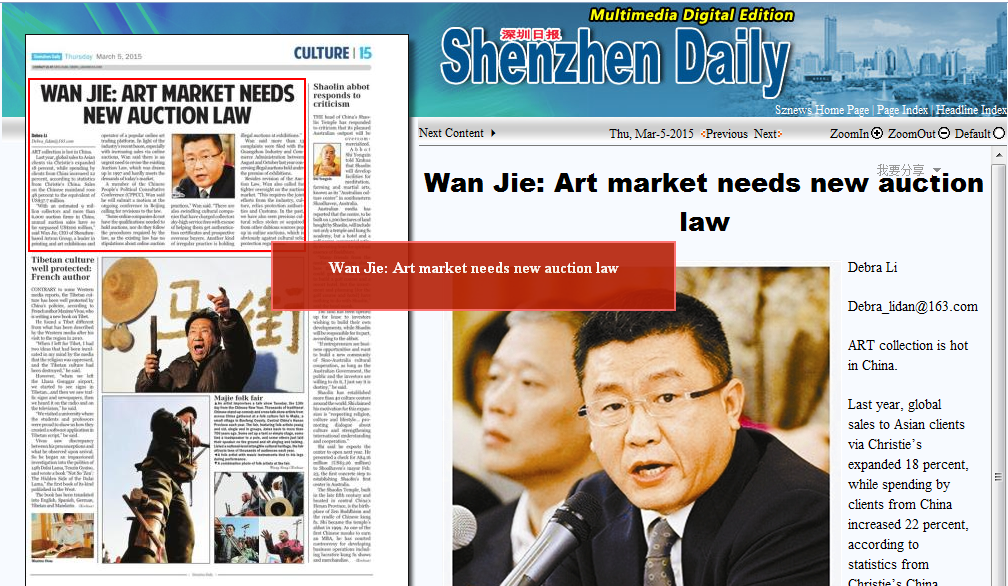 ART collection is hot in China.
Last year, global sales to Asian clients via Christie's expanded 18 percent, while spending by clients from China increased 22 percent, according to statistics from Christie's China. Sales on the Chinese mainland rose 48 percent to the equivalent of US$37.7 million.
"With an estimated 9 million collectors and more than 6,000 auction firms in China, annual auction sales have so far surpassed US$100 million," said Wan Jie, CEO of Shenzhen-based Artron Group, a leader in printing and art exhibitions and operator of a popular online art trading platform. In light of the industry's recent boom, especially with increasing sales via online auctions, Wan said there is an urgent need to revise the existing Auction Law, which was drawn up in 1997 and hardly meets the demands of today's market.
A member of the Chinese People's Political Consultative Conference (CPPCC), Wan said he will submit a motion at the ongoing conference in Beijing calling for revisions to the law.
"Some online companies do not have the qualifications needed to hold auctions, nor do they follow the procedures required by the law, as the existing law has no stipulations about online auction practices," Wan said. "There are also swindling cultural companies that have charged collectors sky-high service fees with excuse of helping them get authentication certificates and prospective overseas buyers. Another kind of irregular practice is holding illegal auctions at exhibitions."
Wan said more than 13 complaints were filed with the Guangzhou Industry and Commerce Administration between August and October last year concerning illegal auctions held under the premise of exhibitions.
Besides revision of the Auction Law, Wan also called for tighter oversight on the auction market. "This requires the joint efforts from the industry, culture, relics protection authorities and Customs. In the past, we have also seen precious cultural relics stolen or acquired from other dubious sources pop up in online auctions, which is obviously against cultural relic protection regulations."
链接:http://szdaily.sznews.com/html/2015-03/05/content_3157941.htm